SEIKO Solar: Harnessing the power of light. - SNE032P
SEIKO Solar and the environment
SEIKO Solar is a quartz watch which takes its energy from light, and stores it in a self-recharging battery which never needs to be changed. By eliminating the need for battery change in a quartz watch, SEIKO Solar makes an obvious and important contribution to the cause of a healthier planet. SEIKO was an early pioneer in solar watch technology, with its first Solar watch being launched in 1977.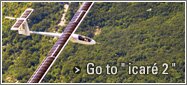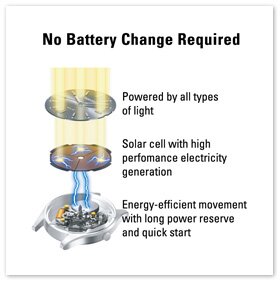 Because no battery change is ever required, the watch is virtually maintenance free. While we recommend occasional servicing as with any watch, the wearer can rely on the full operability of the watch for an extended period with no fear of the battery ever draining.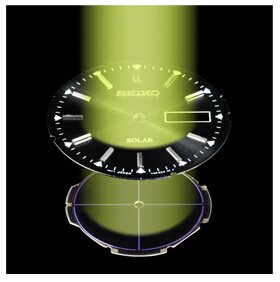 Thanks to SEIKO's advanced Solar technology, the white dials are really white, the black dials are really black and the blue are truly blue. Indeed, the only indication that the watches are solar powered is the discreet wording "Solar" on the dial.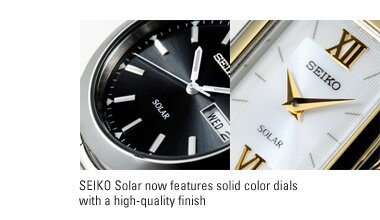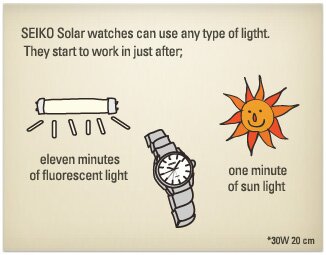 The appeal of this new generation of SEIKO Solar watches lies in the simple practicality of the new SEIKO Solar technology:
The watches are powered by all kinds of light, not only sunlight.
1 minute The watches charge very quickly. In most SEIKO Solar calibers, just one minute of sunlight delivers one hour of charge (two minutes for women's models) and the watch is fully charged after three hours.
6 months The watch retains the charge for an extended period. When worn regularly, the watch will remain fully charged, of course, but even if left in pitch blackness for 6 months, (or 12 in some models) the watch continues to work normally.
8 minutes If the watch is without power, it will start to operate completely normally after just eight minutes of exposure to sunlight.